Topley Richfield a mine 95 years in the making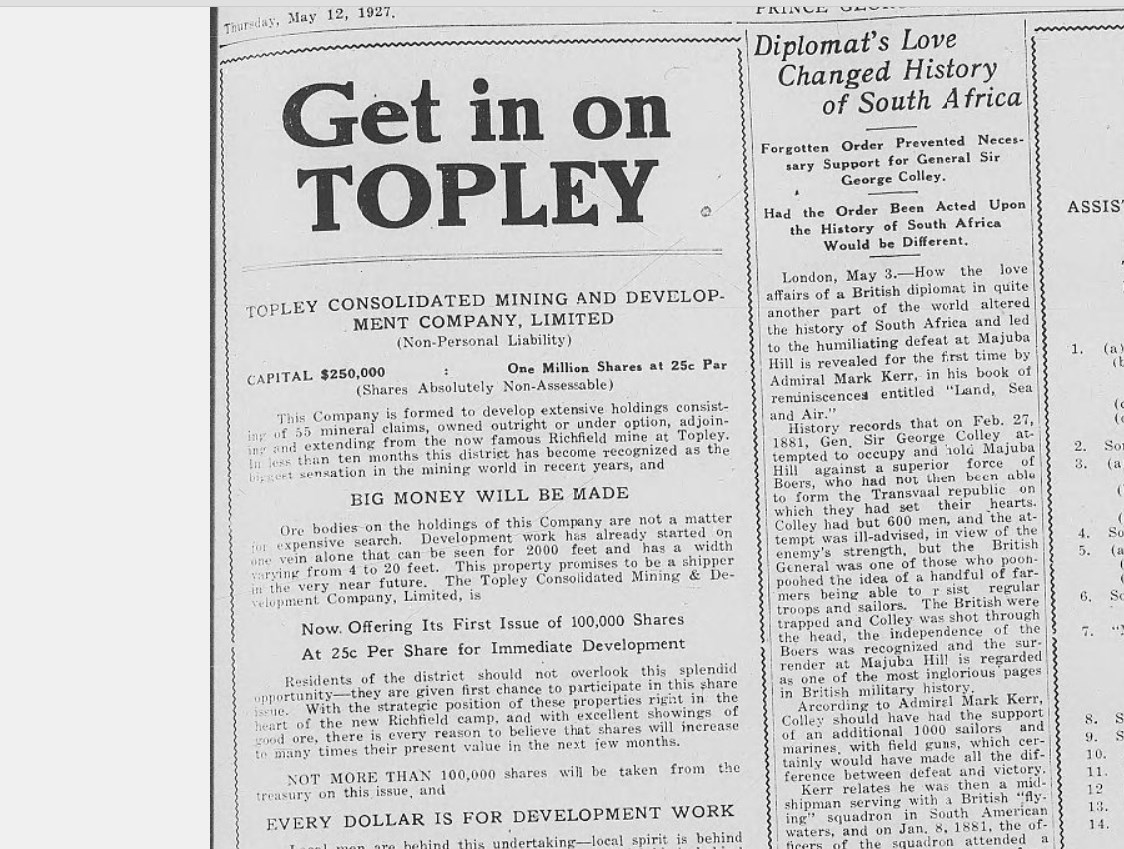 A Vancouver-based mining company is exploring the copper-silver-gold deposit that has attracted prospectors since 1927.
In May 2022, Vancouver-based General Copper Gold Corp. announced that it had raised $748,000 through the sale of shares to explore the Topley Richfield property, located eight kilometers north of the village of Topley, in British Columbia, approximately 277 km west of Prince George.
In May 1927, the Topley Consolidated Mining and Development Company – led by Frank Taylor, the prospector who discovered the Topley deposits in 1926 – issued one million shares to raise $250,000 (nearly $4.45 million in 2022 dollars) to develop the site. After Taylor and company closed in 1929, mineral exploration rights to the site changed hands at least 10 times, attracting such major players as Cominco (now part of Teck Resources Ltd.) and Esso Resources Canada in the 1980s.
But the closest thing Topley Richfield came to was when a run on mining stocks on the Vancouver Stock Exchange in April 1928 caused the stock price of Taylor's Topley Consolidated Mining and Development Company to triple from from $0.25 to $0.75 per share, in three trading days.
General Copper Gold Corp. President Michelle Gahagan did not respond to a request for an interview from a citizen.
"General is very pleased to add Topley to our portfolio with a view to following up on previous drilling. Analysis of historical drilling appears to indicate an epithermal system and our plan is to test the identified fold axis which lies fairly close from the surface," Gahagan said in a statement released on July 20, 2021. "With the excellent infrastructure and our local logistics partners, we will be able to make significant progress quickly and inexpensively."
A statement released May 5 by the company said it would use funds raised through the equity issue for exploration on the 2,313-hectare Topley Richfield property, which includes seven contiguous claims.
"Topley Richfield is a historic mining area with previous work completed in 2008, 2015 as well as geophysical surveys in 2021," the statement said. "There are significant historic drill intercepts and the 2021 geophysics have highlighted other very promising key areas that have yet to be explored. Several drill targets have already been identified by the Company.
On July 27, 2021, General Copper Gold Corp. (then called General Gold Resources Inc.), announced that it had acquired a 50.1% interest in the Topley Richfield property from Deep Blue Trading Inc., for $200,000 and two million common shares. The deal was part of an agreement, announced seven days earlier, to allow General Copper Gold to purchase up to a 100% interest in property from Deep Blue over a 12-month period.
"It is accessible by road, power runs through the west side of the property and the village of Topley is less than 10km away," the company's July 27, 2021 statement read. focused on expanding known mineralization. General will use historical work data to inform the current drilling program.
'MAKE A STAKE… OR MAKE IT BREAK'
On January 27, 1927, the Citizen reported that Taylor "will stake Topley or go bankrupt."
Taylor had invested $10,000 (nearly $170,000 in today's dollars) that he had earned on other mining properties to buy options from other prospectors in the Topley Richfield area. Additionally, Taylor purchased a townsite surrounding Topley Station.
At the time, the Standard Silver-Lead company, based in Spokane, Washington, was doing work at Richfield, but per a July 21, 1927 report in the Citizen, the American company had abandoned the business and Taylor's company was seeking to acquire its mining rights. .
When Taylor and his company were issuing stock to entice the Capitol, an advertisement published in the Citizen by the company boasted that the company owned or had options on 55 mining claims in the "now famous" Topley Richfield area.
"In less than 10 months, this district has become the biggest sensation in the mining world in recent years, and A LOT OF MONEY WILL BE MADE," the ad reads. "The ore bodies on this company's holdings are not an expensive research topic…This property promises to be a shipper in the very near future."
While some shareholders "made a nice cleanup" when the company's stock price tripled in April 1928, the mine never became "a shipper".
Despite promising discoveries of gold and silver announced in late November 1928, Taylor and his partners ended their operations at Topley Richfield in 1929.
An editorial in the Citizen, published on January 9, 1930, said the operation ended with $200,000 remaining in the treasury and $50,000 in equipment at the site. The company had excavated 1,600 meters of underground workings on two levels, accessible by an inclined shaft, as well as substantial drilling, but no mining was carried out, according to a 1999 engineer's report.
"Investors in all mining companies are called upon to take two main risks. One is on mining, and the other on management. Topley-Richfield shareholders have failed but succeeded in their management, as all agree that the affairs of their company have been intelligently conducted and economically managed," the Citizen wrote.
Taylor and company have taken an option on the Three Star group on Boo Mountain, about 14 km northwest of Decker Lake, "on which it is believed to have a good chance of doing well".
MORE THAN 30,000 TONS OF SILVER
In a May 2007 report on the Topley Richfield site, Stephen Wetherup of Caracle Creek International Consulting Inc., described the history of the site throughout the 20e century.
Toronto-based NXA Inc. had just acquired the rights to the site from an Ontario numbered company, and Wetherup and his colleagues were hired to perform an inspection and report on the site in 2006. The report was made public by the BC Geological Survey. .
By the time Wetherup visited the site in 2006, the Taylor mines were no longer accessible.
After Taylor left in 1937, new owners discovered a gold-bearing structure about 300 meters east of the original underground mine. According to the 1999 engineering report, surface stripping and 50 meters of underground work were carried out at this site.
Between 1938 and 1953, a total of 43 tons of ore were mined, recovering almost 27 kg of silver (worth around $22,350 today), 31 grams of gold (worth less than $2,300 today), 9.5 tons of lead and 4.3 tons of zinc.
The Topley Mining Syndicate ceased operations in the early 1950s and ownership passed to Silver Standard Mines, which dewatered historic mine shafts and carried out test drilling between 1955 and 1958.
Then, in 1967, Seemar Mines Ltd. did extensive drilling and used ground-based magnetic fields to search for metal deposits.
In 1975, Canadian Superior Exploration Ltd. conducted the first induced polarization (IP) and resistivity survey of the site, Wetherup wrote. The company drilled four holes in the old mine area and intersected the area between the two levels of the mine.
Between 1979 and 1981, Cobre Exploration Ltd. brought more modern technology to the old mines.
"Cobre Exploration has calculated reserves of 181,000 (tonnes) with grades of 5.0 to 10.6 (grams per tonne gold) and 62.2 to 248.8 (grams per tonne silver)" , Wetherup wrote.
The discoveries of Cobre Exploration clearly sparked interest in the Topley Richfield site, as in 1982 and 1983 Canadian mining giant Cominco Ltd. had acquired the rights to the site and was carrying out its own geophysical survey.
In 1987, ownership passed to Esso Resources Canada Ltd., which later merged with petrochemical giant Imperial Oil. Esso Resources Canada conducted further exploration of the site, reporting reserves of 170,000 tonnes in 1988, grading 3.9 grams of gold per tonne and 177.3 grams of silver per tonne – the equivalent of 30,141 tonnes silver (worth about $25 billion at today's prices) .
However, these vast reserves have not resulted in action by major mining players like Cominco or Esso Resources Canada.
By the 2000s, ownership of the site had reverted to junior mining exploration companies; NXA Inc. purchased them from a numbered company in 2006.
In May 2019, Bloomberg announced that Pacific Empire Minerals had purchased the rights. Before General Copper Gold Corp. took its stake in Topley Richfield last year.
Only time will tell if Frank Taylor's mine will ever become a "shipper".