The Dow rises slightly, the S&P 500 and the Nasdaq fall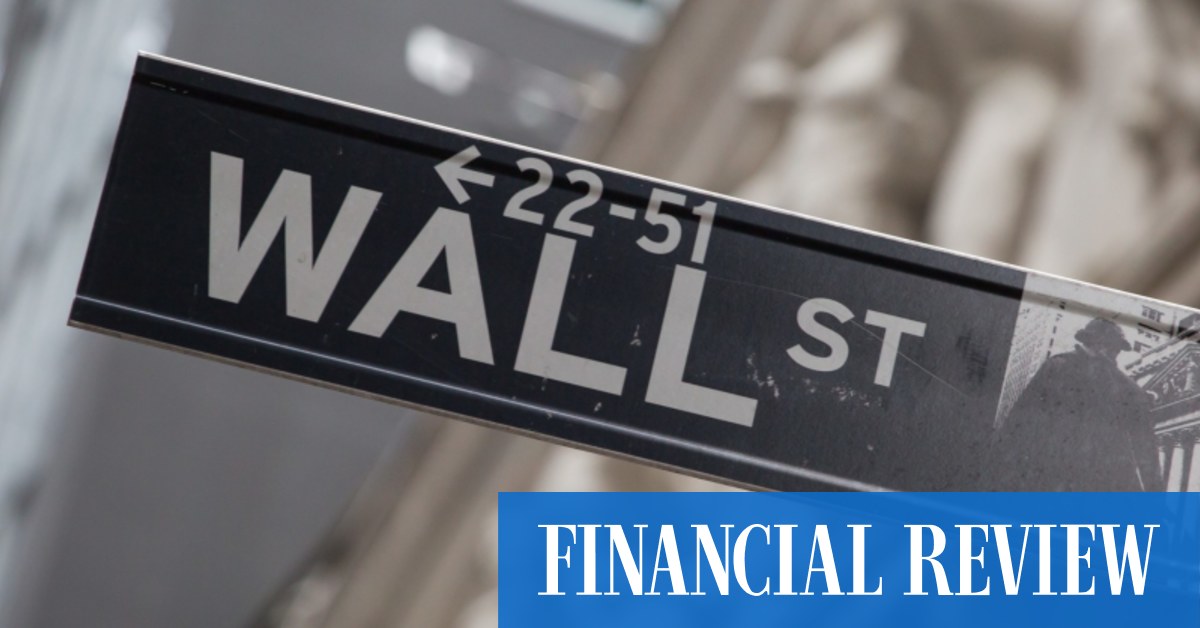 The yield on the US 10-year note was 4 basis points higher at 2.70% around 4:59 p.m. in New York; two-years were at 2.51% and five-years at 2.75%.
Market Highlights
ASX futures up 27 points or 0.4% at 7480 around 07:00 AEST
AUD -0.3% to 74.58 US cents
Bitcoin on bitstamp.net -1.8% to US$42,775.84 at 7:10 a.m. AEST
On Wall St: Dow +0.4% S&P500 -0.3% Nasdaq -1.3%
In New York: BHP +0.4% Rio -0.7% Atlassian -7.2%
Tesla -3% Apple -1.2% Amazon -2.1% Alphabet -1.8%
In Europe: Stoxx 50 +1.5% FTSE +1.6% CAC +1.3% DAX +1.5%
Spot gold +0.8% at $1,947.54 an ounce at 4:59 p.m. PT
Brent +1.8% to $102.34 a barrel
US Oil +1.9% to $97.88 a barrel
Iron ore down US40¢ to US$154.65 a tonne
2-year yield: United States 2.51% Australia 2.11%
5-year yield: United States 2.75% Australia 2.75%
10-year yield: United States 2.70% Australia 2.96% Germany 0.70%
US prices from 4:59 p.m. in New York
From the AFR weekend
The week the RBA interest rate hikes got real: There are times in the history of the RBA when a small change signals a profound change in the way the bank thinks. The April 2022 board meeting was one such moment.
Chanticleer: China's woes don't dent Fidelity's positive stock outlook: After the worst monthly net outflows from Chinese stocks in two years, one of the world's largest fund managers, Fidelity, is optimistic for the country.
Asset managers turn to mergers to serve shareholders: A proposed combination of two of Australia's most highly regarded fund managers has revealed just how tricky these once lucrative businesses are.
ASX posts weekly loss as rate hike fears to rattle markets: The S&The P/ASX 200 fell 0.2pc this week, despite rising on Friday, as the prospect of an aggressive interest rate hike rattled investors.
United States
Tesla, payment company Block and blockchain company Blockstream will collaborate to mine bitcoin using solar power in Texas, CNBC reported. The bitcoin mine would use Tesla's solar and storage technology and would be powered entirely by renewable energy, according to the report.
A US recession is not imminent despite the inversion of part of the US Treasury yield curve which has been "artificially pressured" by some investors, said BlackRock, the world's largest asset manager, in a note.
The closely watched spread between two-year and 10-year yields, whose reversal preceded past recessions, turned negative last week, fueling debate over whether the signal portends a slowdown this time around. this.
"We don't expect a near-term recession," said Gargi Chaudhuri, head of iShares investment strategy, Americas, at BlackRock.
"While we are hesitant to say this time is different, we note that many factors now differ from previous yield curve inversions," she wrote.
Summers sees a consensus forming towards an inevitable US recession: Larry Summers said that the US has never had inflation above 4% and unemployment below 4% without it being followed by an economic slump.
Former Goldman Sachs banker Roger Ng has been found guilty by a US jury of corruption charges related to his role in looting hundreds of millions of dollars from Malaysian development fund 1MDB.
Europe
European stocks rallied on Friday to erase weekly losses as investors focused on a close race between far-right rival Marine Le Pen and incumbent President Emmanuel Macron ahead of the first round of presidential elections. French this weekend.
Financials and materials stocks led the gains with all major sectors in positive territory. The pan-European STOXX 600 index rose 1.3% and ended the week up around 0.5%, with healthcare stocks firming the most during the week.
Topping the index is Banco BPM's 10.2% rise, after French bank Credit Agricole announced it bought a 9.2% stake in Italy's third-largest bank.
The European Union on Friday officially adopted its fifth sanctions package against Russia, including import bans on coal, timber, chemicals and other products.
Asia
Chinese stocks closed higher on Friday, buoyed by expectations of further policy easing measures to support a slowing economy hit by the country's worst COVID-19 outbreak in two years.
The blue-chip CSI 300 index rose 0.5% to 4230.77, while the Shanghai Composite Index gained 0.5% to 3251.85.
The Hang Seng index rose 0.3% to 21,872.01, while China's corporate index fell 0.1% to 7,490.37.
For the week, the CSI 300 index fell 1.1%, while the Hang Seng index fell 0.8%.
"Fork-bound sentiment continues amid concerns over the macroeconomic recovery, management of COVID-19 and tight global liquidity," Morgan Stanley said in a note. "Earnings estimate cuts have accelerated further."
Property developers jumped 2.7%, financial companies gained 1.3% and construction engineering stocks jumped 4.1%.
Merchandise
Fitch Solutions sees more support for metals: "We expect metal prices to remain elevated in the coming months as global stocks continue to hover around historic lows and investors increase their speculative positions in stocks. metals."
Chinese ferrous futures fell on Friday, with steel prices losing more than 2% at one point and commodities trading in a range, as COVID-19 curbs production at factories and hits the consumption.
Weekly apparent consumption of major steel products in China came to 9.6 million tonnes this week, down 3% from the previous week, according to a Reuters calculation based on production data and inventory compiled by the consulting firm Mysteel.
Steel rebar for building materials on the Shanghai Futures Exchange, for October delivery, closed down 1.4% at 5,019 yuan (US$788.89), down 2.7% for the week.
Hot-rolled coil futures, used in cars and household appliances, fell 0.8% to 5,195 yuan a ton and were down 2.3% for the week.
Stainless steel prices on the Shanghai Stock Exchange for May delivery fell 2.8 percent to 20,025 yuan a ton.
Prices for steel ingredients on the Dalian Commodity Exchange were mixed. Benchmark iron ore futures on the Dalian Stock Exchange for September delivery closed 0.7% higher at 919 yuan a ton.
"The impact on finished product demand and raw material transportation from this series of pandemic outbreaks continues, short-term demand (for iron ore) is struggling to increase significantly," Haitong wrote. Futures in a note.
However, iron ore consumption could increase if the COVID-19 situation is well contained and construction activities resume in the second quarter, he added.
With Reuters