Rotarians and Kiwanians to serve pancakes during Blueberry Festival | Local News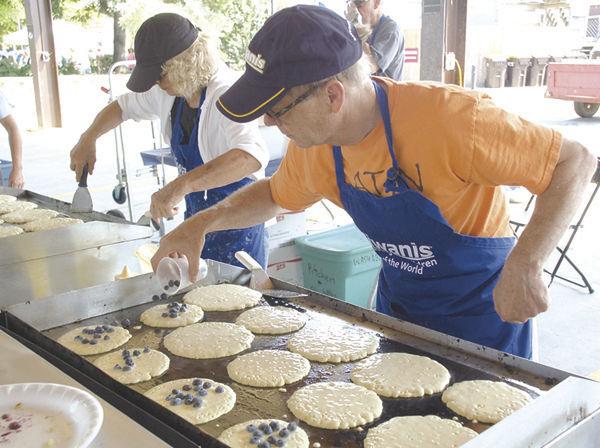 Their names may be different, but their mission to serve the South Haven community remains the same.
The Kiwanis Club of South Haven and the Rotary Club of South Haven will be working together to host a Blueberry Pancake Breakfast as part of the National Blueberry Festival on August 14-15.
Normally, each club hosts their own pancake breakfast during the festival; the Rotary Club serves festival fly-in flapjacks at the South Haven Regional Airport, while the Kiwanis Club caters to downtown festival-goers at the Huron Street Pavilion.
But the repercussions of the COVID-19 pandemic this year have brought the two clubs together to deliver a full-scale breakfast in one location: the Huron Street pavilion.
The two clubs decided to combine their efforts after this year's Fly-in was canceled due to COVID-19 health restrictions that were not lifted until July 1 – a date too late for officials to the airport organize their annual large-scale event.
For the Rotary Club, the news of the cancellation was devastating.
"This is by far the biggest fundraising event for our club in years during the Blueberry Festival," said Rotary club president Daniel Thompson.
The club members then had an idea.
"After learning that the airport fly-in had been canceled, I contacted the management of the Kiwanis club to see if there was any interest in the Rotary club participating in the Kiwanis pancake breakfast during the Blueberry Festival, "explained Thompson.
The two long-standing clubs – Kiwanis for 100 years and Rotary for 65 years – had never worked together on fundraising. But like so many things that have changed in the wake of the pandemic, they decided to give it a try.
"Club Kiwanis management has been very supportive of the idea," said Thompson.
Those attending this year's Blueberry Pancake Breakfast at the Pavilion can expect to see both clubs donning their respective outfits while joking around, all the while focusing on putting together a blueberry pancake menu at the clubhouse. will, scrambled eggs, sausage, coffee and juice.
"We typically serve around 2,200 people over the two-day weekend from 8 am to noon," said Ron Seiler, a Kiwanis member who has been responsible for the Kiwanis pancake breakfast for over a decade. "This year, we are extending the hours from 8 a.m. to 1 p.m., adding additional equipment, adding tables and adding the combined workforce of the Kiwanis Club and the Rotary Club to increase the speed and capacity of the club. service. We therefore hope to serve nearly 3,000 people this year without waiting longer than normal. "
After breakfasts are consumed and all equipment cleaned / packed on Sunday, both clubs plan to split the profits equally.
Proceeds will be used by the two clubs to fund scholarships for high school graduates and donations to youth and other community organizations.