Prices of 'leaking' construction inputs crush contractors' profits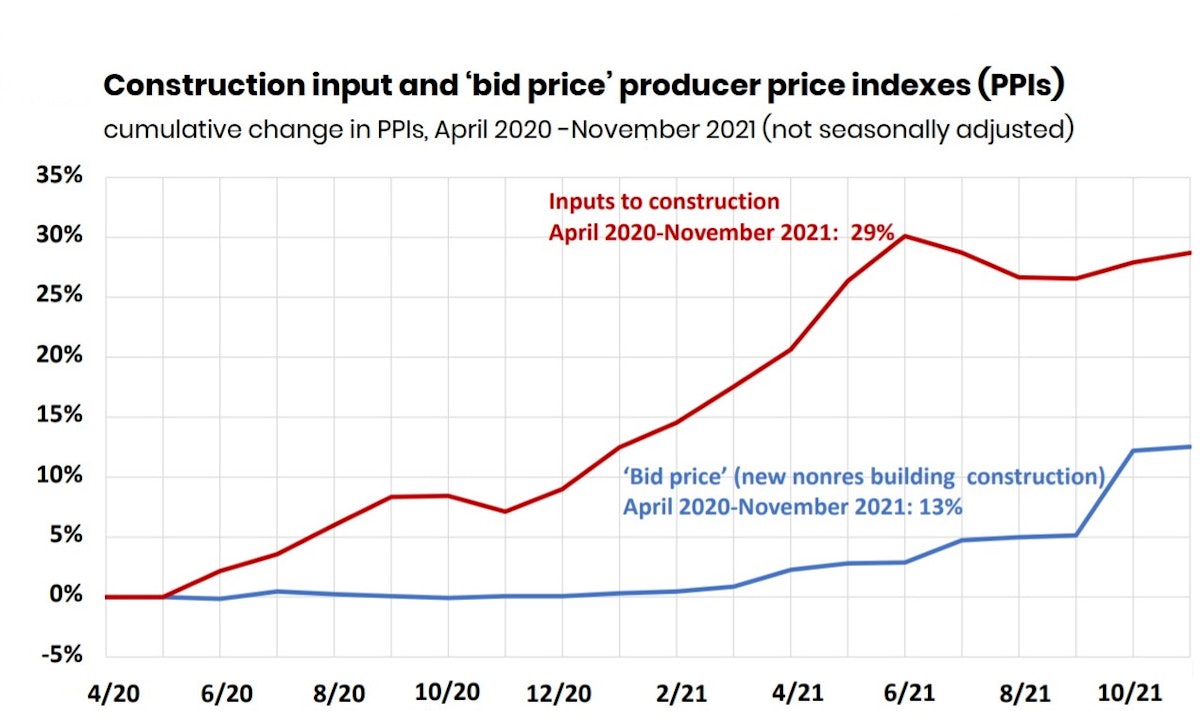 Associated General Contractors of America
Construction input prices rose 1.4% in November from the previous month, according to Associated Builders and Contractors (ABC) analysis of Bureau of Labor Statistics output price index data. United States released today. Non-residential construction input prices also rose 1.4% for the month.
Prices for construction inputs are up 23.5% from a year ago, while prices for non-residential construction inputs are up 24.5% during this period. All three energy sub-categories have increased significantly. Natural gas prices increased 150.6% from a year ago, while prices for crude oil and unprocessed energy materials increased 115.2% and 113.6%, respectively. Prices also rose rapidly in the steel mill products (+ 141.6%) and iron and steel (105.1%) subcategories over the past year.
Analysis by the Associated General Contractors of America (AGC) showed that increases in the producer price index for inputs to new non-residential construction eclipsed the rise in the price index for new non-residential construction. non-residential buildings – a measure of what contractors say they would charge to erect five types of non-residential buildings. This index climbed 0.3% for the month and 12.4% from the previous year.
"Entrepreneurs are not the only people who should be concerned about today's inflation numbers," said Anirban Basu, chief economist of ABC. "While the contractors and the project owners they serve are most directly affected by the large and continuing increases in material prices, many other stakeholders are affected. Among these are American taxpayers. Many are thrilled that a big infrastructure package will be passed in November, but rising material prices mean Americans may receive less value for every dollar spent. The rise in labor costs goes in the same direction.
AGC Chief Economist Ken Simonson reports double-digit percentage increases in price indexes over the past 12 months for a wide range of common construction products:
aluminum plant forms jumped 41.1%
copper and brass mill shapes increased by 37.8%
plastic construction products soared 32.5%
gypsum products such as wall panels increased by 20.9%
insulation costs increased by 17.4%
trucking costs soared 16.3%
asphalt felts and coatings are up 16.3%
architectural coatings increased by 12.4%
wood and plywood increased by 12.2%
diesel fuel climbed 81.0%
"The prices of almost all types of building materials are increasing at a tremendous rate," Simonson said. "These costs compound the difficulties faced by entrepreneurs due to long production times, blocked supply chains and record numbers of job openings."
"There is no indication that the prices of materials will drop in the near future," adds Basu. "With the omicron variant now circulating around the world and leading to a next wave of bottlenecks and supply chain disruptions, demand for key commodities will continue to exceed One of the implications is that estimators will be subdued. under tremendous pressure to predict material prices amid huge volatility and uncertainty. more likely. "
AGC officials said the sharp rise in materials prices shows more needs to be done to tackle supply chain issues and price inflation that make it difficult for entrepreneurs to succeed. They urged public officials to look for ways to temporarily increase the capacity of safeguarded ports like Los Angeles / Long Beach, abandon plans to double tariffs on Canadian lumber and fight rising inflation levels.