North Shore palladium miner shares profits with neighboring First Nation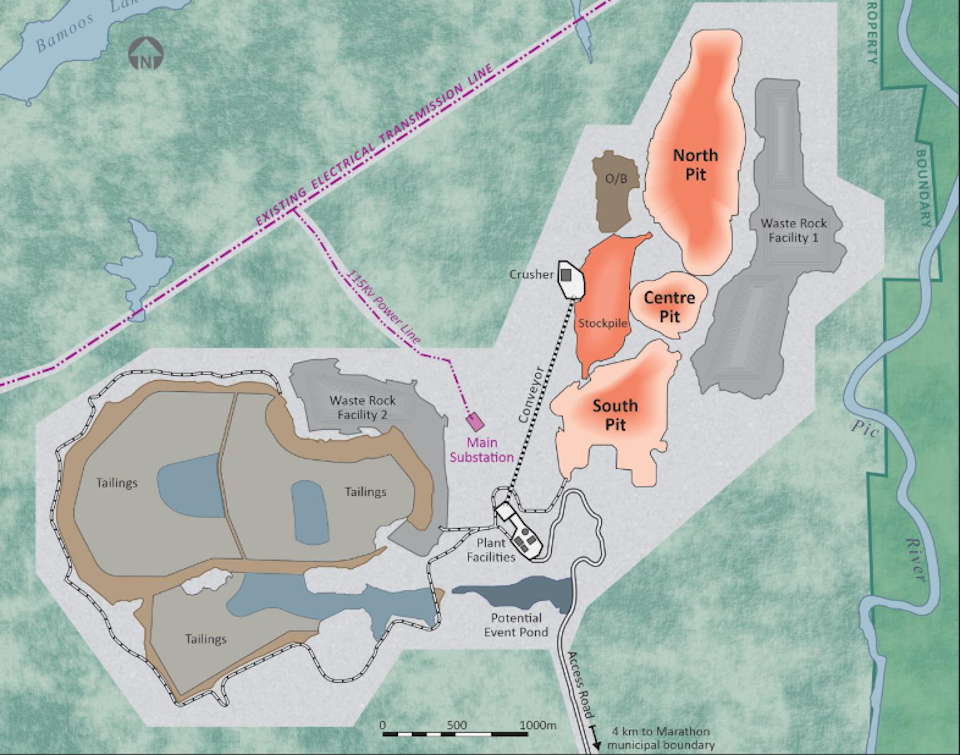 Generation Mining signs contract and training opportunities pact with Biigtigong Nishnaabeg
A mine builder in Marathon is on solid ground with his native neighbor.
Generation Mining of Toronto announced the signing of a memorandum of understanding with Biigtigong Nishnaabeg (BN) for the Marathon Palladium Copper project near the north shore of Lake Superior.
Some of the highlights of the agreement, released by the company on January 27, revolve around business, training and employment opportunities related to the project, including the sole-sourcing of certain contracts to enable the community and local businesses to obtain some of the economic benefits. of the mine.
The development promises to create over 1,000 construction jobs and 400 permanent mining jobs over a projected lifespan of 13 years.
Gen Mining is currently in the process of raising funds for the initial capital costs needed to construct and equip the $665 million project.
Biigtigong Nishnaabeg, also known as Pic River First Nation, is the closest First Nation to the future mine. The pit will be located approximately 10 kilometers north of the town of Marathon.
With this agreement, Gen Mining said it is committed to:
– Collaborate on sustainable community business opportunities that will last beyond the life of the Marathon project
– Target and support businesses that include the training, development and growth of BN community members in their professional development and long-term employment
– Support strategic partnerships and initiatives that help the CO participate in opportunities to gain management experience in the mining industry
– Support BN in its current and ambitious sustainable business growth strategic objectives.
Both parties said the memorandum of understanding is just one piece of a larger community benefits agreement being negotiated.
In a press release, the company called the signing of the agreement a milestone as the proposed surface mine project passes the government regulatory approval phase of a combined federal and provincial environmental assessment process.
If the government approves the project and issues key building permits by the middle of this year, initial construction could begin as early as September or October, or as late as November or December.
The company plans to begin commercial mining production from late 2023 or early 2024
"Gen Mining respects Indigenous culture and the environment in which we work and plan to operate," Gen Mining Chairman and CEO Jamie Levy said in the statement.
"We very much appreciate BN's support for the development of the Marathon project. We are proud to be partners with BN and look forward to continued collaboration in the years to come."
"This MoU establishes a solid foundation for us to work collectively with Gen Mining on a number of business opportunities," added Debi Bouchie, COO of BN.
"It facilitates a process to ensure that our First Nation can and will capitalize on economic opportunities during critical stages of mine development. We look forward to the implementation and progress of this Memorandum of Understanding.