Gerdau stock: Worth another look as demand leads to a more gradual down cycle (NYSE: GGB)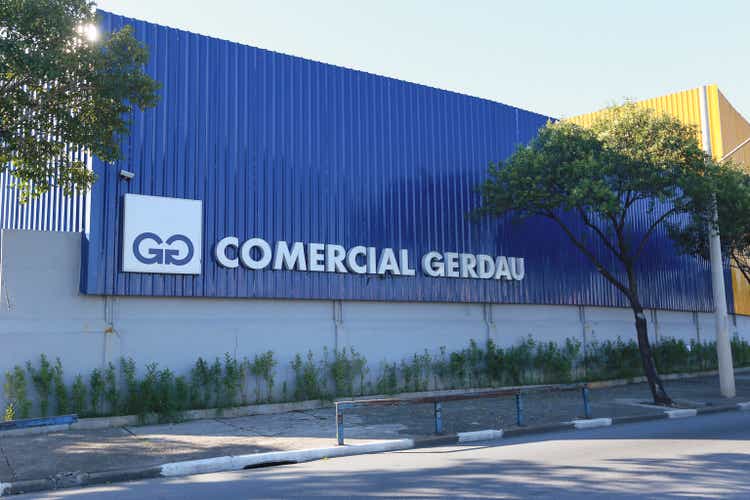 Write about Gerdau (GGB) at the start of September 2021, I thought that if the shares of this Brazilian steel company were not expensive, there was a risk of sentiment from a market that had started to move away from steel stocks. That call did pretty well until fourth quarter earnings, with stocks lagging the S&P 500, but the earnings report and guidance call lit a fire under stocks, sending them higher. 20% since.
I think we are "after the peak" for the sector, and I expect sales and EBITDA to decline in 2022 and 2023, with 2023 FCF about 25% below 2021 levels, but I think that the industry is likely to see a firmer lower than in previous cycles, and I like Gerdau's leverage in a healthy Brazilian market, as well as his leverage in strengthening construction spending and infrastructure in the United States. On top of that, I think it's a well-run company, with management taking a very conservative approach to both debt and capital spending. Although steel companies are rarely suitable as long-term holdings, I think Gerdau ADRs should trade well into the $6 range, offering decent upside potential at today's price.
Solid earnings and cash flow
Gerdau's fourth quarter earnings were slightly better than expected, with beats on the revenue and EBITDA lines, as well as continued progress with the balance sheet.
Revenue increased 58% year over year and 1% QoQ, prices doing all the work, volumes shipped down 2% Annual and 3% QoQ. Revenue was 4% higher than expected, with operations outside of Brazil offsetting weaker domestic demand.
Overall gross margin improved more than four points from the prior year level, but declined six points sequentially to 24.1%, with continued increases in COGS cash/tonne (up 7% and 11% QoQ in Brazil and North America, respectively). EBITDA increased by 96% YoY and fell 15% QoQ, good for a 3% beat, with a margin up more than five points YoY and down about five points T/T at 27.8%.
Revenue from Brazilian operations increased by 53% YoY and down 12% QoQ, with domestic revenues down 20% QoQ on lower shipments and fixed prices. EBITDA increased by 56% YoY and decreased by 30% QoQ, with a margin up 60 bps YoY and down more than eight points QoQ at 31.5%, and missed expectations by around 10% on lower volume, realized prices and margins.
Revenue from North American operations increased by 57% Annual and 6% QoQ, helped by strong price realizations. EBITDA increased by 284% over one year and 14% QoQ (in R$), with a margin up more than 16 points YoY and a colon QoQ at 27.4%, beating about 9%.
The Brazilian and North American operations account for approximately 80% of Gerdau's EBITDA, but investors interested in learning more about the results should review the management presentation of results.
Generally healthy market trends support better outlook for 2022
U.S. steel prices have been falling for some time, recently fell 13% year-over-year to below $1,150/short ton, and delivery times have fallen to a little more than four weeks. Close to $1,000/tonne, however, I think there will be more price support, and so I don't see much downside risk at this point.
In Brazil, hot rolled prices are up around 18% YoY, with cash margins up around 11%. While Gerdau management has spoken of increased local competition, it would appear that healthy demand growth is helping to set prices as utilization rates increase. Construction activity is strong right now and demand has essentially returned to the peak levels of the 2010s.
Construction should be a strong market for steel through 2023, although I'm a bit concerned about a drop in new launches, ultimately leading to weaker demand beyond that. In the industrial market, automotive demand is currently sluggish due to component shortages, but Gerdau is benefiting from healthy demand for heavy machinery and sees growth opportunities in areas such as renewable energy. Management also noted that it has no plans to reduce capacity utilization – for the foreseeable future, steel production that cannot be absorbed by the domestic market will go to the export market ( export volumes were 89% higher over a on an annual basis in Q4'21).
In the US, management has prioritized efficiency and this is translating into record margins as the company's facilities operate at over 90% capacity. In the near term, improving non-residential construction should support activity (Gerdau is focused on long products in the US, where there is less capacity coming in), and management expects to start see an impact of the infrastructure bill in late 2022 or early 2023. Management also indicated that it sees renewable energy as a growth market in North America in the medium to long term.
Outside of these regions, the demand for special steel in the automotive sector is understandably weak at present, but I believe we have seen the worst here. The increase in the number of drilling rigs (in response to rising energy prices) is driving demand in the oil/gas sector, and the strong production of heavy vehicles in Brazil (agriculture and construction) is also contributing . In the South America zone, healthy construction activity is supporting demand in Argentina and Peru.
Perspectives
Gerdau's management has reduced net debt from over R$26 billion in 2015 to R$7.25 billion by the end of 2021, and is seeking further reductions. The company plans to spend R$4.5 billion in capex in FY22 (about 6% of my estimated net income), of which R$0.5 billion is carried over from 2021 (expenses that have not could not be carried out due to COVID-19) and 0.8 billion reais for various environmental projects. With that, I see opportunities for increased payouts to shareholders in the near term.
As I said earlier, I expect revenue to decline in 2022 and 2023, and I think Gerdau will experience a peak-to-trough decline of only 13%. I expect EBITDA margins to dip back into the mid-teens, but that probably won't start until 2023, and I expect Gerdau to remain FCF positive through cycle lows. In the long term, I expect growth even from the high level of 2021, although I expect it will take more than five years to regain/exceed 2021 revenue levels and I am not modeling a level of similar profitability.
The essential
I rate steel companies on a combination of long-term discounted free cash flow, EV/EBITDA using a blended next year/full cycle approach, and ROE-focused P/BV. All of these approaches give me roughly similar results – that Gerdau shares are dumped below the $6 average. There are a lot of risks here, including the risk that high energy prices will jeopardize the economic recovery, but I think the yield available is sufficient for this risk. I would never recommend Gerdau as a long-term holding (or almost any commodity company), but if U.S. steel prices bottom out and the Brazilian economy continues on a positive trajectory, these actions should attract more attention.