CBRE says brace for biggest rise in construction costs in years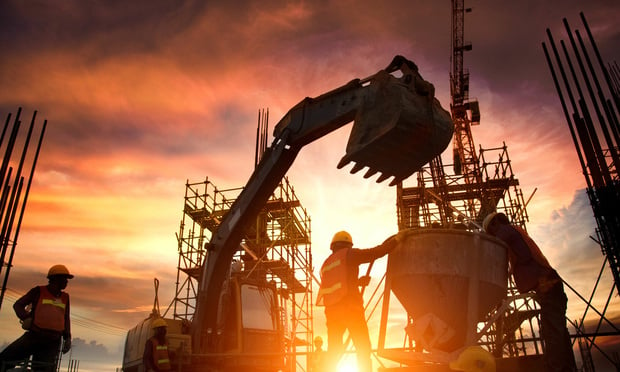 CBRE announced this week that it expects construction costs to rise by 14.1% which will likely be the largest in several years, although relief may be on the horizon.
The developers point to higher labor costs and the supply chain as the main culprits. They are sometimes forced to adjust projects and hope that the pool of subcontractors expands. Some say that communication between customer and supplier is key to overcoming challenges.
The projected increase this year exceeds last year's 11.5 percent rise and well exceeds the historical average gain of 2 to 4 percent per year. The projected gain for 2022 is the largest since CBRE began tracking cost projections in 2007.
An "entirely new level of complexity"
Kinjal Patel, general manager and senior vice president, construction, for Lendlease in Chicago, told GlobeSt.com that rising material prices are contributing significantly to the overall spike in construction costs.
"This price volatility adds a whole new level of complexity to project planning and budgeting," Patel said. "For some trades, it's not uncommon to see increases of 10% or more in just six months. We have found that in today's ever-changing global landscape, following trends in indices or commodity prices only goes a long way in making predictions.
"You need to go the extra mile, staying in constant contact with supply chain suppliers to understand their individual challenges and work with them on solutions. We also leverage our national and global presence as an integrated company with expertise not only in construction, but also in investment development and management, to consolidate information and help us better predict price volatility. .
Patel said that in this environment, communication with the customer is key.
"We are constantly updating our estimates with current information from our suppliers and subcontracting partners; If we see a trend of rising costs for a specific material or craft, we alert our clients and advise them to proceed with a budgeting update for that element of the project.
"Where possible, we are also pushing the extended project team to align with design concepts much earlier than they previously would have. This allows us to start the clock earlier when designing bidding and project award, which means we can lock in prices and secure materials in the supply chain earlier – in some cases, even purchasing and storing certain materials for us ensure we have them available on time and at the price we budgeted.
Modified projects, not "put on the shelf"
Michael C. Brown, executive vice president and general manager of construction operations for Skanska USA in Florida, told GlobeSt.com that among his clients there is a consensus that projects will be modified, if necessary, " rather than shelved to wait for more favorable market conditions There is an urgent need to get these developments built, especially the essential ones like hospitals and schools.
He said that Skanska is able to respond to this urgency with innovative solutions developed by its local, regional and national resources, helping our customers move their projects forward.
"Despite some of the material, labor and supply chain challenges facing the construction industry nationally and regionally, the outlook is certainly bright. These challenges are only heightened by the fact that there is an immense amount of work going on, which is good news for the economy, for our industry and for the communities we serve.
Possibly a "moderate" cost escalation
Jorge Serna, executive vice president of construction at Integra Investments, told GlobeSt.com: "Looking at the last 12 months of construction costs, it's hard to say that overall we've seen a double-digit cost increases.
"For the next six months, however, we believe that while some construction labor materials and components will continue to rise, we also expect others, such as the prices of lumber and aluminum. steel, will drop, which will hopefully result in a much more moderate escalation ultimately leading to leveling all around.
"As we enter the second half of 2022, we are also noticing greater availability among the contractor pool, with more companies submitting bids for future projects, which is an improvement from the 18 to 24 months of labor shortages that the market has experienced."
Projects "inevitably" delayed, canceled
Jeff Wilcox, Principal, Gantry, tells GlobeSt.com that construction costs continue to rise on the West Coast, however, prices have moderated from the price spike seen in 2021 and the first half of 2022.
"Labour availability and labor costs continue to be the primary driver of cost increases, with some materials remaining expensive by historical standards," Wilcox said.
"Rising capital costs will inevitably lead to the delay or cancellation of various development projects, which will ease the pressure on contractors' backlog. This should normalize year-over-year cost increases in construction prices. »
He said there had been talk of lower construction costs between 2023 and 2024, but "that expectation is unrealistic given the labor imbalance that will not be alleviated in a short period of time. .
The aging workforce will make matters worse
Crystal Sunbury, senior real estate and construction analyst at RSM US LLP, told GlobeSt.com that the construction industry is not immune to labor shortages and disruptions of the global supply chain.
"Inflation, federal spending and an aging workforce are expected to continue to exacerbate labor shortages, which will continue to drive up the cost of labor for the foreseeable future, as contractors continue to struggle to find enough skilled labor to complete the projects in their backlog. , and as construction spending increases due to the Infrastructure Investment and Employment Act.
Sunbury said global supply chain disruptions, affected by China's Zero Covid policy and the war in Ukraine, have significantly increased costs in recent months. Diesel fuel was up 71% year-on-year in July, while other key construction materials such as concrete pipes, plastic building products, sheet metal and steel pipes were up. increased by more than 20% for the same period.
"The good news is that supply chains are loosening up," she said. "The U.S. supply chain RSM index moved back above neutral in July for the first time since the pandemic hit, following rebounds in inventory and capacity utilization. standardized procurement will provide much-needed relief to contractors and alleviate much of the material price pressures experienced over the past two years.
She said the IHS Markit PEG index, which measures engineering and construction costs (a reading above 50 represents a rise in prices from previous months) fell in July from 76.7 to 68.9 , with the materials and equipment component at 63.4 and labor at 81.8. .
The six-month index, which measures contractors' expectations for the next six months, measured at 61.5 with the materials component at 52.7, as materials prices are expected to decline by 2023, and labor- of labor at 82.1.
"As supply chains loosen, the main concern for entrepreneurs will be finding skilled labor, which will continue to drive wage growth," Sunbury said.
Nicolas McNamara, director of cost consultancy for CBRE, said in prepared remarks that the construction industry thrives on predictability, "but we continue to face many challenges and volatility this year, which makes estimating and managing costs more difficult, but the demand for new projects remains strong.
More expectations of predictable and marginal price changes
Joe Santaularia, senior vice president, and Julianna Brooks, director of business development for Bradford Commercial Real Estate/CORFAC International in Dallas, tell GlobeSt.com that volatility and rapid inflation in construction costs have been a constant pressure on the years, when historically the industry has operated on the expectation of predictable and marginal price changes.
"Much of the demand-side price increases came from the booming real estate and industrial market — with demand for new construction and home improvements reaching historic highs," Santaularia said. "Uncertainty in the office market caused a slew of project cancellations or suspensions as the fundamentals of the office space market were not worth the risk."
Brooks said she was beginning to see these trends reverse, with demand for higher quality office assets creating increased demand for construction services in the office sector, where the sector previously lagged.
"The 'flight to quality' is replacing the hot housing market as the high-demand event in the construction space," Brooks said. "We are seeing historically long delivery times, but customers who are willing to wait."