Can Steel Town clean up its act?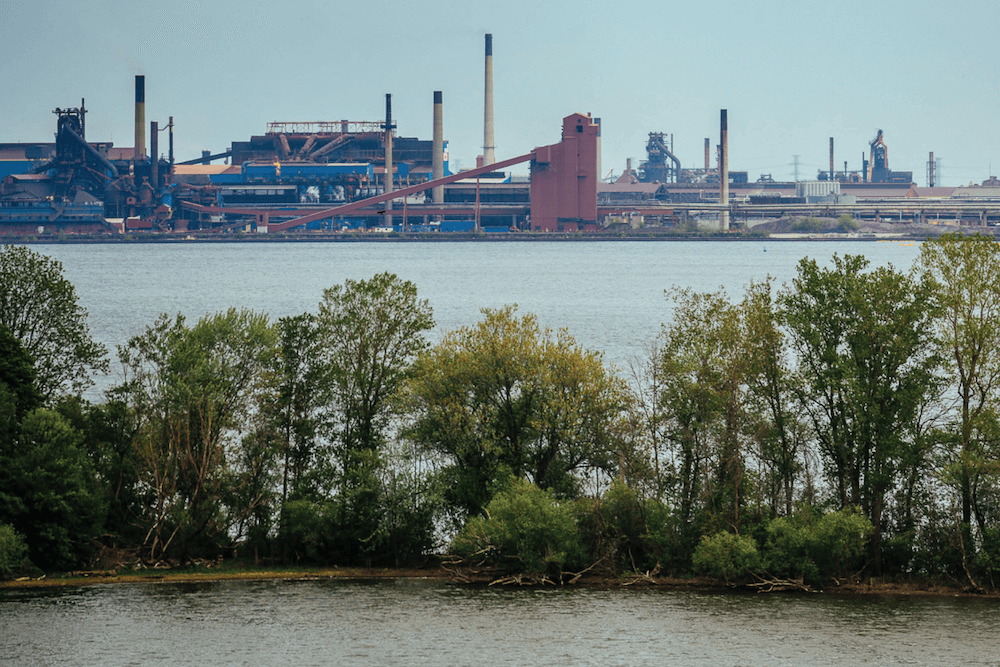 By committing to achieve carbon neutrality by 2050, the Canadian steel industry has embarked on a massive transformation.
To achieve this goal, industry will have to reverse a century of steelmaking in blast furnaces. These ovens, huge cauldrons of molten metal at temperatures of over 1600 ° C, consume enormous amounts of metallurgical coal and, in so doing, spew millions of tons of CO2 into the atmosphere.
"I cannot stress enough the importance of this transformation," says Catherine Cobden, CEO of the Canadian Steel Producers Association (ACPA), which made the net zero pledge in March 2020. "It's" is an ambitious goal, and it will take a significant effort to achieve it.
But critics say the 2050 target has not come with detailed goals and plans, especially in the heart of southern Ontario's industry. With tens of thousands of people directly and indirectly employed in industry in Hamilton, no city has such a stake in the future of steel.
"Our local factories are Hamilton's climate elephant in the room," said Lynda Lukasik, a 20-year veteran of pollution control group Environment Hamilton. "We clearly need the industry to do something to start the journey towards decarbonization. But we've seen very little action on this front so far. "
So how will this industry transition from its high carbon present to a net zero future? To understand this, it helps to know how steel is made.
The dirty side of steel
The first step is to create iron, the basic ingredient that gives steel its strength, lightness and malleability. To create iron, oxides (oxygen molecules) must be removed from the iron ore. In most steel centers, including the huge integrated complexes of Hamilton, Sault Ste. Marie and Nanticoke on Lake Erie, this is done by cooking charcoal in ovens at high temperatures to produce a hard, gray substance called coke. The coke is heated with iron ore in a blast furnace, producing liquid iron and emitting carbon dioxide as a waste gas. After being further refined in a basic oxygen furnace, the resulting liquid steel is cast into slabs, bars and coils in finishing rolling mills.
These processes weigh heavily on the climate. The steel industry is responsible for around 7% of global CO2 emissions. In Canada, the share of steel is lower due to the huge carbon footprint of our oil and gas industry. Nonetheless, in 2019, steel accounted for 16 million tonnes of CO2, or 2% of Canada's total greenhouse gas (GHG) emissions.
Many companies collect steel scrap and then use electric arc furnaces (EAF) to remelt the scrap into liquid steel. While FEAs have a much smaller carbon footprint, the supply of scrap is limited and the scrap cannot produce higher grades of steel, so its potential for climate preservation is hampered.
In support of its net zero commitment, CSGA and its research partners have developed a GHG reduction framework to guide the industry towards low-cost, short-term projects that can achieve at least some reductions. CO2 emissions by 2030 and long-term projects requiring a greater commitment of capital and resources after 2030.
Some current short-term projects:
• ArcelorMittal Dofasco (AMD) in Hamilton is working on trials to replace 40,000 tonnes of coal per year with biomass, such as forest waste. AMD also uses waste gas to power cogeneration equipment with a capacity of 40 megawatts of electricity.
• Stelco is planning a 65 megawatt cogeneration plant and has developed technology to reduce coke consumption by using used railway ties. Another Stelco project plans to capture 6,300 tonnes of CO2 to produce algae for fish feed and bioplastics.
Algoma in Sault Ste. Marie has also made incremental changes through cogeneration and other technologies. But in May, it announced a possible switch from the steel industry from blast furnaces to electric arc production. It would be a major renovation that could reduce emissions by up to 70%; however, it depends on the supply of sufficient electricity to power the furnaces and the scrap to replace the iron produced in the blast furnaces.
While these technologies will drive emissions reductions in the short term, they are not enough to turn the industry to net zero.
"People have to recognize the reality we face with our steel mills," says Lukasik. "Facilities are big emitters. Companies must undertake deep upgrades of primary production elements in order to achieve [CO2] reductions.
Electrolytic mining – the extraction of oxides from iron ore by electricity rather than coal – is one of the processing technologies that AMD is reviewing. But the industry consensus is that green hydrogen technology (hydrogen powered by renewable energy) has the most potential for moving the industry away from coal. Hydrogen can be used as an alternative to coke because it can bind to oxides in iron ore without emitting CO2. Hydrogen can also rely on existing direct iron reduction (DRI) furnaces that reduce iron ore to iron using natural gas. While natural gas emits CO2, the technology can use hydrogen instead, creating the potential for carbonless steel. Many factories around the world use these ovens, including an ArcelorMittal factory in Contrecoeur, Quebec.
There are a number of ongoing hydrogen DRI projects in Europe, including a joint project by steel company SSAB, iron miner LKAB and Swedish power producer Vattenfall, which aims to start steel production. without fossil fuels by 2026. ArcelorMittal is also building a DRI plant at its operation in Hamburg, Germany.
In Canada, the availability of low-carbon hydropower inspired Iron Ore Co. of Canada and Rio Tinto to launch a feasibility study for a DRI hydrogen plant in Quebec or Labrador.
Too expensive to scale?
While these new electricity-based technologies are on the horizon, the cost of scaling them commercially is not justified by today's steel prices. But there are signs that are about to change.
In one of the most important developments, the federal government has imposed a significantly higher price on carbon, gradually increasing from $ 50 per tonne in 2023 to $ 170 per tonne in 2030, creating a huge incentive for large emitters to reduce their CO2. "At $ 50 a tonne, it's an urgent problem; at $ 170, it's existential, "says Cobden.
Additionally, the industry has been encouraged by the recent Joint Canada-U.S. Green Government Initiative, a plan to mandate low-carbon suppliers and infrastructure in government operations and projects.
The final piece of the public policy puzzle is government support for demonstration projects.
In April, the federal government added $ 5 billion to its Net Zero Accelerator fund, promising to spend $ 8 billion over seven years, which, combined with new tax incentives, has the potential to provide major federal funding to the steel industry.
But above these mechanisms is a world awash in cheap, high-carbon steel, mostly from China. The average GHG intensity of Chinese steel is 2.2 tonnes, more than double the Canadian or American intensity.
Cobden says that is why Canada urgently needs to impose tariffs or border controls on high carbon steel. Federal Liberals have pledged to take this issue to other countries, including the Biden administration in the United States.
Lack of vision 2050
So where is the industry going with its net-zero promise?
Chris Bataille, Canadian researcher at the Institute for Sustainable Development and International Relations, welcomes the political developments, but argues that Canada needs to think more like the planners of the Swedish steel industry, who take a holistic approach to decarbonization.
"We have to think directly from the iron mines of Quebec and northwestern Ontario to Hamilton and Contrecoeur to the markets where the cars go. We need to think more in these terms. It doesn't come easily to Anglo-Saxon capitalists, "says Bataille. "You need a vision. If you don't make your own net-zero steel, you're going to import someone else's.
Meanwhile, a rapidly decarbonizing economy cannot wait for the Canadian steel industry to develop this vision.
Increasing amounts of steel will be needed to meet the growing demand for electric vehicles and other low-carbon infrastructure, says Peter Warrian, steel expert at the Munk School of Global Affairs and Public Policy, which means the blast furnaces and coke ovens of the traditional steel industry will continue. "Running the coke ovens for another five or eight years is essential if you want to make electric cars. "
Echoing this, Cobden is careful to point out that the industry has not set an interim target for reducing carbon emissions by 2030. Nationally, the government has set a target of reduce CO2 emissions by 2030 by 40 to 45% compared to 2005 levels. "These are national targets. This is where the country wants to go. This is not where the steel industry can go in the short term.
However, in a few years, the industry will have to work harder and make heavy capital expenditures. Otherwise, steel buyers might decide that it is better to buy low carbon steel from other countries than to wait for Canadian industry to act.
"Industry leaders will understand that they have a problem with social legitimacy," says Warrian. "At the end of the day, steel companies and their shareholders are going to have to write checks."
Eugene Ellmen writes on sustainable business and finance. He lives in Hamilton, Ontario.