Alabama auto shop owners design anti-theft cages for catalytic converters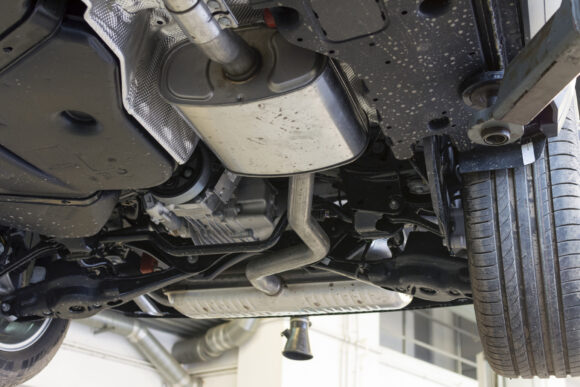 As the number of catalytic converter thefts soared nationwide, an Alabama auto repair shop began building anti-theft cages that cover emission devices.
Dean and Cory Parker, owners of Dean's Auto & Exhaust in Daphne, Alabama, said they've installed six cages so far. Rebar cages cost around $400, but that's far less than the $1,000 to $1,500 it would cost to replace the converters, according to WPMI TV news.
"In fact, customers have asked us what they can do to prevent their converters from being stolen. We kind of kicked around and said okay, you could build a cage, jokingly, and they were like, yeah, okay, let's do this," Cory Parker told the news site.
Catalytic converters, which use expensive precious metals to reduce exhaust emissions, have become popular targets for thieves as the market price of platinum, rhodium and palladium metals has soared in recent years. The National Insurance Crime Bureau reports that nationwide robberies have increased from 1,300 in 2018 to more than 14,000 in 2020.
Last year, State Farm paid $62.6 million for 32,265 catalytic converter theft claims nationwide, a 1,173% increase from 2019.
In Foley, Alabama, not far from Parker's repair shop, police said 18 converters were stolen last year and 16 had been ripped off so far this year, the broadcaster reported.
The problem could get worse as the war in Ukraine has triggered a spike in commodity prices. Russia produces almost 40% of the palladium mined in the world, the US Geological Survey reported.
AAA, the American Automobile Association, recommends installing an anti-theft device such as a cage or steel cable and engraving the driver's license number into the converter.
Photo: A catalytic converter without protective cage.
Topics
Alabama auto fraud
Interested in Auto?
Receive automatic alerts for this topic.